As Queensland and Northern NSW start the cleanup from cyclone Debbie there are still hidden dangers as the flood waters subside. According to Safe Work Australia 90% of homes built before 1990 are likely to contain asbestos . With the areas effected by cyclone Debbie having a high proportion of homes built in the time when asbestos was commonly used in the construction of homes and commercial buildings. It is safe to assume that there is going to be a lot of broken asbestos around, and if you are aware your home or workplace was built using asbestos it's reasonable to assume that everything inside any building that has been damaged may in fact be contaminated.
So what can you do ? To be 100% safe you should have everything checked by a suitably qualified person or asbestos expert there are definitions of what the act call competent persons under the act "how to remove asbestos safely 2011". These people include hygienists, licensed asbestos assessors, holders of asbestos removal licenses A class or B class anybody else is not qualified under the act to make this determination. Sampling is advisable and if you have an asbestos register or report this would be a valuable document to have .
I'm sure you are familiar with the story in the news about a resident that was told that the asbestos roof that was ripped of his house had contaminated the home . Unfortunately he decided that the best thing to do was get his belongings out of the home and leave . His belongings would most definitely be contaminated with asbestos . All he has done is spread the asbestos contamination even further . If you follow us on facebook and read my blogs I am sure you know what my advice would be.GET IT TESTED !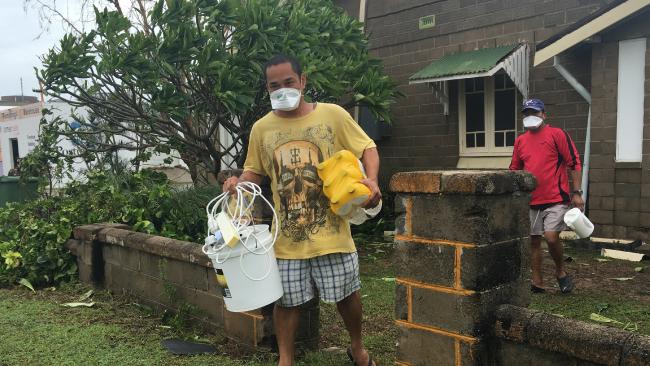 photo of a residents removing belongings from a house that had an asbestos roof heavily damaged in cyclone Debbie .Wearing masks to protect themselves from deadly asbestos fibres as they removed belongings not realising there belongings are contaminated !
Most insurance contents policies will cover for this so the best thing to do is make sure all contaminated items are documented and photographed for your claim. If handled correctly by professionals all of your losses will be able to be recouped but only if correct procedures are followed as per your insurance policy.